In talking with small business owners who are struggling to find success, I am often struck by how strongly they resist change.  In my role as small business consultant, I seem to have to bite my tongue at least twice a day so I don't blurt out that Dr. Phil one-liner, "So, how's that working for you?" 

I try to listen, give constructive suggestions, and try not to over-promise on how I can help their small business grow, but it's so hard when I see what great potential there is with offline relationship-building techniques complemented by online social networks and online marketing techniques, and so many small business owners don't.
Take the insurance agent I recently met.  He has been a small business owner selling property/casualty/health insurance for almost 12 years.  The past 2 years have been the hardest of his career.  He is struggling to find new business.  Where does he currently get most of his clients?  The majority of new business comes from a half-page ad he runs annually in three yellow page-type directories, but the phone doesn't ring as much anymore.  The other main source of new business are leads he gets from his parent insurance company.  Where do those leads come from?  Those leads are people doing online searches, of course, not people looking in the yellow pages.  Lightbulbs coming on, anyone?
Does he have a website?  Yeah, the one the company put up for him almost 5 years ago – and it's never been updated, at least not by him.  Does he promote it?  Not really.  Ever think about a blog? No, too time-consuming.  "Are you on LinkedIn?" I asked.  "I think so," was the reply.  I looked him up.  Yeah, he has an incomplete profile and only 12 connections.   Facebook? That's for kids.  Twitter?  Doesn't get it.
"So what steps are you taking to encourage your current clients to refer more business to you?" I asked.   Nothing systematic, it turns out.  I didn't have my laptop with me at Panera, but if I had, I would have made him sit through THIS VIDEO right then and there.  Ah, live and learn.  He got a follow-up email from me AND a thank you greeting card is on the way, so he'll be exposed to the information that can literally turn his current customers into a dynamic referral machine.  Will he take action?
"What networking events do you regularly attend?"  None.  He used to be involved in the local Chamber, but not now.  I suggested a couple groups that he may want to check out, but he has young kids so evenings are spent at home.  Some of these groups meet in the morning or over lunch.  No enthusiasm.  I don't want to say the guy was negative, but I think all he could see was the desperation of shrinking business, not the excitement of growth.  But he's not willing, right now anyway, to hire me to help him.  The pain isn't great enough — yet.
On my way home from my meeting with him, I was listening to a CD I had gotten a couple years ago from my good friends, Dave and Linda Brincks, of ActionCoach International, entitled 6 Steps to a Better Business, featuring ActionCoach founder Brad Sugars.
One of the things Brad talked about was overcoming resistance to change.  (Sidenote: I once said I wanted to be like Brad Sugars when I grow up.  I still do.  He imparts a lot of common sense.)  Turns out, there's an actual scientifically-proven mathematical formula that governs when an organization – either an individual, small business, or even the largest corporation or government in the world — overcomes resistance to change.  It was actually introduced back in the 1970s by corporation efficiency expert Peter Drucker and then mathematically proven by the team of Gleicher, Beckhard & Harris in the late 1980s.
Anyway, the formula is stated something like this:
Dissatisfaction + Vision + Action > Resistance to change
Basically, in order to overcome the resistance to change, there has to be a certain level of dissatisfaction, often rising to the level of actual pain, the small business owner wants to alleviate. 

But pain is not enough.  The small business owner will continue to do what he or she has always done despite the pain unless there is also a vision of what their business can look like after the pain is removed.  That's where a business consultant like me can help.  I help refine, or maybe even completely define, the vision.  But envisioning the result is not enough.  There has to be action.  Meeting with me may have been my insurance agent prospect's first step.  But he doesn't yet have the vision.
I have my work cut out for me with him.  Only when all three elements are in place: 1) enough pain, 2) a clear vision, and 3) action will he be willing to let go of his current ways to doing business and try some new things.
I am convinced that building relationships is the way to build a successful small business today.  Whether it's offline relationship-building activities, like consistent communication strategies like SendOutCards, or newsletters, or even one-on-one personal networking, or it's online relationship-building activities like email, blogging, and social media strategies, no small business owner is going to be able to really experience the success he or she seeks without embracing a new vision and overcoming  resistance to change.
If you are dissatisfied with your current business, and are ready to seek out a new vision, then take that action and call me at 614-753-5979 or email me at SuccessPointConsulting@hotmail.com.  I'm ready and excited to help.  A more successful small business is in your future.
Until next time,
Here's to helping you reach your Success Point,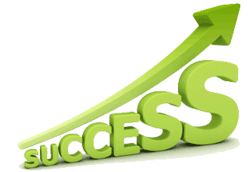 Trina