Affordable Attorney Marketing Services to Set You Apart from the Pack
They don't teach it in law school, but Marketing is essential to grow and maintain profitability in a law practice.  Whether you are a solo practitioner, a small firm, or a medium-size firm, you need to be marketing constantly to bring in new clients.  But how do you juggle your client service with your marketing?  Most of the time, you will either neglect your marketing or you will pass it off to your secretary or paralegal, which just takes dilutes their efforts to service your clients.
Without marketing, potential clients won't know why YOU are the perfect choice for them.  For many clients, an attorney is an attorney.  You need to stand out from the pack.
The best solution is to hire an in-house marketing coordinator.  But as we all know, hiring an employee comes with a hefty price tag and human resource issues.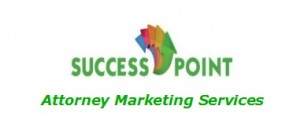 The alternative is to hire an outside firm like Success Point Consulting.  We have helped dozens of solo practitioners and small firms with projects like:
Attorney profile sheets,
Client welcome packets,
Client education white papers, FREE Reports
Firm capability brochures,
Logo and branding,
Websites and blogs set-up, design and content
Event planning and management,
Speaking engagement sourcing,
Print and radio advertising creation
Representation of firm at networking and business events
And more.
Whatever your firm needs, we can provide — and at a fraction of the cost of a full-time employee.
Call us today at
843-824-4025
to set up your FREE marketing analysis consultation.

 Then let us customize a marketing support package specifically for your needs so you can concentrate on serving your clients.
Call us today.