Congratulations!  You've now thought about keywords and should be beginning to see the impact they can have on your online success.  But doing the research is only half the puzzle — now you have to use them.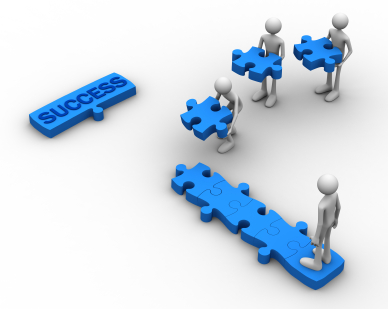 The first step is to review of your list of potential keywords  and keyword phrases and pick the one or two, but no more than three, of them to target.  You may have a list of 25 potentially dynamite keywords, but you cannot effectively go after all of them at once.  For each keyword or keyword phrase, think about how you would use it in a headline or sentence.  Sometimes keywords pop up that have a decent number of searches and almost no competition — because they are almost impossible to use in regular language.  You can choose to target those — but understand that it will make your job just that much tougher.
Before you do anything else, pull up a Google search box and type in the keywords or keyword phrases you have chosen.  Make note of the top ten results.  You want to be one of them within the next 60 to 90 days (or sooner).
Now get to work on your copy.  If you have a traditional website, ideally, all three keywords will appear on your website's home page:  include all of your keywords at the top of the page; put at least one keyword or phrase in a headline or a subhead; at least one or possibly even two of your keywords or phrases should be in the first paragraph of the page; and make sure you add at least one in the last paragraph of the page.  If you can make the targeted phrase a logical hyperlink to another page in your site, Google will give you bonus points in your search rankings.  Note:  Make sure your keywords are in text, not artwork.  If your headlines and subheads are graphics and not text, Google may ignore them.
Make sure you include one, two, or all three of your targeted keywords in your page's title and meta description and of course, include them in your web headers as meta keywords.  You can target different keywords on different pages of your website if each page is indexed separately.  That may be a little advanced for a basic website, but it's something to keep in mind.
If you are using a WordPress or other blog format as your platform instead of a traditional website, you will want to make sure that each post has one or two keywords in it and that your targeted keywords are included as Categories and Post Tags.   If you have added an SEO plug-in for your WordPress blog, make sure you include your targeted keywords in your Title and Meta Description.
But don't stop with your website or blog.  Now go into every directory your site has been listed in and re-write the description to include your keywords.  Pull up your profiles in LinkedIn, Twitter, and Facebook and add your keywords.  Begin a concentrated, targeted online campaign emphasizing those keywords.  Try to use those targeted keywords in your Twitter updates, on your Facebook wall, in articles submitted to article directories, and in press releases.  Add your website or blog to different social bookmarking sites and include your keywords in your profiles.
Finally, set up Google alerts to track your keywords or keyword phrases.  As you start to use the phrases more and more, you should start to see your site or marketing efforts pop up.  This will give you an idea of where Google is recognizing the phrase and you can adjust your copy or marketing efforts accordingly.
Give it a shot.  I would love to hear your success stories in a couple months.
Here's to your success,
Trina
P.S.  SPECIAL OFFER:  
GET A WEBSITE ANALYSIS AND 
CUSTOM
ACTION PLAN — TODAY!
 Finally, a customized report that actually gives you what you need — real, solid, ACTIONABLE recommendations that you can implement IMMEDIATELY and start to see improvement in your page rank, search engine results, and traffic.
We produce a different kind of website analysis report, one that's actually relevant to your goals. Most SEO analysis reports are canned. They use stock software to "analyze" your website based on computer driven formulas, or even worse- copy and paste information from a grab-bag of resources. They produce results that have been predefined and offer nothing more than useless information.  Heck, a lot of them don't even really look at your website.  They plug your URL into a software package and take what gets spit out and hand it to you, expecting it to make a difference.  Their reports might as well land in the trash for all the good they do.
Unlike the competition, we actually go on your site, read the content and check all the links.  Sure, we'll run a software program or two to get us some baseline information from Google, but the meat of our report is a result of over 20 years of sales and marketing experience, including the last 5 years heavily invested in learning SEO and online marketing strategies.  We give you an ACTION PLAN of steps   you can implement right away to improve your website's performance.  Not listed in enough directories?  We'll give you a list.  Not utilizing social media effectively?  We'll get you specific suggestions on how to improve.  Don't know what to say in a forum?  We'll provide you with a suggested topic list, as well as suggestions on what forums and how often you should participate.  Every website and market is different, and every Action Plan should be, too.
Satisfaction is completely guaranteed. If you don't see results in 60 days after implementing our suggested changes in your Action Plan, we will refund your $179 investment. We produce results, or our services are on the house.  Our ACTION PLANS are effective. We guarantee it.