PART I of Three-Part Series:  Finding Your Keywords
The key to getting your site or profile found in an online search is keywords.  Period.  Whether it's on Google or Bing, or even LinkedIn or Twitter, what words you use and how you use them will have a major impact on your results and ultimately, your online success.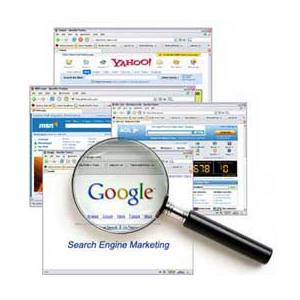 Choosing the "right" keywords is part art, part science.   There are dozens of programs out there that will generate words and phrases for you.  I've used WordTracker, Market Samurai, and Good Keywords, in addition to the very accessible free Google Keyword Tool.  They all have their flaws and their biases.  But like so many programs, the outcome is only as good as the input.  "Garbage in, garbage out" as the saying goes.
The place you have to start is getting into the mind of your potential site visitor.  What words or phrases would they type into a search box if they were specifically looking for you but didn't know your company name?  I don't mean to burst anyone's bubble, but few people with any sort of search engine experience will type in just "dentist" if they are looking for a new family dentist.  I know, I know, I hear you.  "But Trina, Google says "dentist" was searched 13,000,000 times last month."  It was.  And those people received in their results the U.S. Bureau of Labor Statistics, Wikipedia, the ADA, and many directories for dentists.  Plus the local results for Google maps.  If you truly wanted to compete on the word "dentist" then concentrate on getting listed in the right directories, and get a listing on Google maps, don't try to use the phrase as the keyword on your website.  It is more likely your ideal new patient would type in Dentist Clintonville or Dentist Clintonville Ohio, which had 36 searches.
So the first step is to create a list of all the phrases you "think" a visitor would type if they were looking for you, your products or your services.  Think of phrases that are 2 to 3, even 4 words long.  If you take a common phrase and narrow it, you've created a "long-tail keyword."  Long-tail keywords are going to bring you lots more of targeted, specific traffic than the general, short-tail keywords.  An example of a short-tail keyword phrase would be "family dentist."  "Family dentist Columbus Ohio" would be an example of a long-tail keyword. 
The next step, if you are running Google Analytics on your site (which you should), go to Traffic Sources report section and look at the list of keywords in the right hand column.  Click on the "View Full Report" under the list to see all of the phrases people have been typing and ended up on your site.  Aren't you amazed at the variety?  I know I am.
The third step is one that many people skip.  Take a look at your competition.  Type in the phrases you think people are using, and the ones you pulled off Google Analytics into a Google search box (or Yahoo, or Bing, it doesn't really matter) and then click on all of the competitors.   Put your cursor somewhere on the page near the top but under the header and right click.  Select "View Source" and up pops their site coding.  Near the top, you should see their meta tags.  Look for "meta name = keywords" and then copy down all the words and phrases they are using.  Then go back to their site and read their home page, looking for those words or phrases.  Make a note of how many times each phrase appears.  Now, it's true.  Some sites will have 20 keywords in their tags, and only 2 of them show up in their text.   That's not good optimization, but who am I to judge?  Now, with most blogs, it's a different story, but that's for another day.
You'll now have a list of what you think people search for, and what your competition thinks people search for.  Next week, I'll review what to do next.
So, what tricks or tips do you have to find the "right" keywords?  Do you believe your keyword selection is contributing to your online success?  If you're willing to share, please let me know.
Until next week,
Here's to your success,
Trina
P.S.  Yep, you guessed it.  I'm going to be offering a seminar in July:  "The Key is Keywords."  Details are being worked out now.  Stay tuned.