I believe having a thriving referral system is hands-down one of the best ways for a small business to grow.  As the Bob Burg book says, "Go-Givers Get More."  And I believe it's true.  I believe every small business owner should actively promote other small businesses and the more you help others, the more others will help you.  A "rising tide raises all ships" kind of thing.
But sometimes, the referral process can go terribly wrong.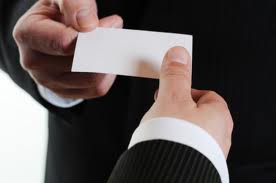 I met with a new client last week.  I'll call him Joe at Company A.  In our discussion of why he needed to bring in a business consultant, we talked about how he had been missing deadlines, he had over-promised and under-delivered on several projects, and had actually not been able to complete some work he had promised to do.  He was floundering.
At some point in the conversation, because I am all about referrals, I asked if he knew anyone who could help me with X project.  He immediately said, "Oh, you've got to call Jim at Company B.  They are the best.  Here, let me give you Jim's card.  Tell him I sent you."  He whipped out Jim's card from his business card book.
So I sent Jim an email, introducing myself and saying that Joe at Company A referred me.  I gave him a pretty thorough description of what I was looking for and asked if he could do the work within a certain timeframe.
Within 10 minutes of sending the email (which was at 7:00 a.m.) my phone rang.  It was Jim.  Now, I'll be honest, I took his immediate response as being a sign that he wanted my business.  Wrong.  What he wanted to do was bash Joe at Company A.  Jim spent 3 minutes telling me about how badly Joe had handled a previous project and then 4 minutes trying to convince me that I should have nothing to do with Joe and Company A and proceeded to give me the names of 4 or 5 of Joe's competitors and encouraged me to work with them.
Jim didn't ask about my business and my needs.  He never really got that I was a consultant and not a customer of Company A.  He wasn't grateful in the least that Joe had referred me, a potential new customer with connections to dozens of other new customers, to his company.  At the end of 7 minutes, I had to stop him.  I simply said, "Well, apparently your bad experience with Joe would taint any project you and I would do together, so I thank you for the phone call, but I don't think you really want my business" and ended the conversation.
That was 7 minutes of my life I will never get back.  I have rarely seen such a poor, disconnected business relationship in action.  The whole scenario left me wondering if I wanted to work with either of these companies.
So for what it's worth, here are some lessons I think all of my small business readers should review:
1)       I would not recommend that you refer business to companies with whom you have had bad dealings.   In this case, if Joe knew that his relationship with Company B was poor, but knew that Company B provided good services, he could have told me not to use his name.
2)      Try to be aware of your business reputation.  I don't know if Joe is just blissfully unaware of Jim's feelings or if he thinks that referring people to him is a way to get back in his good graces.  If there are companies out there that you have done wrong, reach out and try to repair the relationships so they are not out trashing you.
3)       Be grateful when potential customers call you and offer to use your services, regardless of how they came to know about your service.  A referral job is typically not an extension of the referrer.
4)      You do not help your own reputation nor grow your own business by bashing other companies.  After my experience with Jim and Company B, I would not do business with him.  I mean, heaven forbid something went wrong with our project.  Would he talk like that about my company?
I try to impress on my clients that they need to treat referrals like gold, because once someone refers business to them and you do the right thing, they are going to try to send  you more business.  Pulling in your personal problems with the referrer is unprofessional and uncalled for.  For the sake of your business, don't do it.
Here's to your Success,
Trina