My friend and I were reflecting yesterday on how many women we knew had made major career shifts more than once in their lives.  As many of my readers and friends know, I haveve been a journalist, a political aide, an assistant editor, a marketing and operations manager, an attorney, a business and marketing consultant, a salesperson, a professional copywriter, blogger and freelance writer, a Mary Kay representative, a published author and speaker, and even a major women's event planner. My friend has had a similarly broad, wide-ranging, non-linear work life.  We have been "career gypsies."  We got to talking about whether or not our frequent zigs then zags has hampered or enhanced our overall success.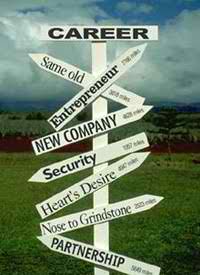 What is a career, exactly?  According to the dictionary, a career is the "pursuit of consecutive progressive achievement in a chosen field" or "a profession in which ones trains or is undertaken as a permanent calling."  Yep, I've had about a half-dozen of those.
So Can Career Gypsies Be Successful?
Our culture seems to both embrace and criticize the choice to be a career gypsy.  There is a lot of lip service given to the idea that women should "choose" a career path and stick to it.  It makes it easier to categorize people.  She's an accountant.  She's a stay-at-home mom.  She's a waitress.  Those definitions bring with them certain expectations and assumptions.
But the reality is that very few women do it.  Just for fun, I mentally went through a list of 20 of my women friends and realized that only one or two of them have actually followed a prescribed career path.  The vast majority have taken sharp left turns at various times in their work life. Yet I could think of at least 10 or more of my male friends who have chosen a path and stuck to it for years.  Why the difference?
Being a career gypsy comes naturally to many women, I think.  Some of it may have to do with wanting to arrange their work life around family.  As family needs change over the years, so does the woman's work needs.  Making work "fit" around marriage and toddlers and sports and piano lessons and church and grandmas requires some flexibility.  Let's face it: often it's the woman who has to learn some pretty fancy tap-dancing to keep all cylinders of the family engine running smoothly.  Being "in transition" for many women is a permanent state.
Career gypsies like me and my friend find it hard to describe what we "do" for a living. We still haven't decided what we want to be when we grow up and we just keep searching.  For us, life is a journey and work is just a small part of who we are.  We keep expanding our knowledge and experience base because we see opportunity everywhere we look.  We haven't defined ourselves by our jobs or careers, we've defined ourselves by our hearts and our passions.
We both concluded that we were definitely a success when it came to being a woman or a human being, but both of us could see where we probably took some missteps on the road to financial security.  Thank goodness neither of us use wealth as our measure of success.
For women who can embrace their career gypsy ways, the world is a great big playground, full of fun and interesting things to try.  Do I think I could have been more financially successful if I had stuck with my first career?  I don't know.  Maybe.  I would have truly been an "expert" by now.  But I know I would be a completely different woman than I am today and since I like who I have become, I have to say I made the right choices for me.
So if you're a career gypsy like me and my friends, I say take a bow and then dance across the living room.  What you "do" for a living doesn't really matter in the long run.  What matters is that you've enjoyed the journey.  And if you've helped others on the way, then you are way ahead of the game in my book.
Here's to your success,
 Trina
P.S.  But if perchance you are looking for a new adventure, check out what I'm doing these days.  Click here.